Min vän fyllde år för någon vecka sedan och här är vad jag lyckades fixa ihop: Tardis-kort, ett självlysande klistermärke i form av en måne, samt Creeper cupcakes (som ser lite efterblivna ut...men det är insidan som räknas!). Receptet är hämtat från recepten.se, med några små ändringar. Testa gärna!
I made a few birthday presents for my friend; a Tardis card, a glow-in-the-dark sticker in the shape of a moon, and some (derpy) Creeper cupcakes. Here's how I made the Creepers!
Ingredienser |
What you'll need:
150g smör |

150g butter

1 dl strösocker |

0,5 cup of sugar *The receipe originally says 2 dl/1 cup of sugar, but I chose to use less!

100g mörk choklad |

100g dark chocolate

2 ägg |

2 eggs

1,5 tsk vaniljsocker |

1,5 tsp vanilla extract

1 msk bakpulver |

1 tbsp baking powder

5 msk kakao |

5 tbsp cocoa powder

3,5 dl vetemjöl |

1,5 cup flour

2 dl mjölk |

1 cup milk
Gör såhär |
How i'ts made
Sätt ugnen på 175°C. Skär upp smöret och lägg i en bunke (så hinner det bli lite varmare än kylskåpskallt). Häll på strösockret.
Set the oven at 175°C/350°F. Cut the butter in pieces and put it into a bowl. Pour the sugar on top of it.
Smörj en muffinspanna som rymmer 12 stora muffins eller ta fram stora muffinsformar. Hacka chokladen.
Get something to put your cupcakes in. Chop the chocolate into small pieces.
Vispa smör och socker till en jämn smet, använd elvisp (som du kan använda genom hela receptet där det står vispa). Tillsätt äggen, ett i taget och vispa snabbt ihop till en fin smet.
Whip butter and sugar until the batter is even. Use an electric mixer throughout the whole recipe. Add the eggs one at a time and whip quickly until it's even.
Vispa ner vaniljsocker och bakpulver.
Add down vanilla extract and baking powder. Whip.
Add cacao powder. Whip. (I'm starting to like this word.)
Vispa sist ner vetemjöl och mjölk samtidigt. Vispa till en jämn smet.
Add the flour and the milk at the same time, and whip until the batter is even.
Rör sedan med en sked ner den hackade chokladen och eventuellt frusna hallon.
Add the chocolate pieces, and carefully turn the batter a few times.
Fördela smeten i muffinsformarna. *Här lade jag till en dumlekola i smeten! Lägg en klick smet på botten, tryck ner en dumle, och lägg lite smet över. Tänk på att inte fylla formen mer än till hälften!
Add the batter to the cupcake molds. Remember not to fill it more than 50%! As a surprise, I put a small piece of chocolate fudge inside, but this is totally optional.
Grädda mitt i ugnen i 175°C i ca 30 minuter.
Bake in the oven for ~30 minutes (350°F).
-----------------------------------------------------------------------------------------------------------------
Glasyren är en blandning av 1,5 msk citronsaft och strax över 2dl florsocker. Smält choklad och använd en sprits för att göra ett Creeperansikte :3
Icing is made of 1,5 tbsp lemon juice and 1 cup of icing sugar. Melt chocolate and use a forcing bag to make a Creeper face :3
_______________________________________________________________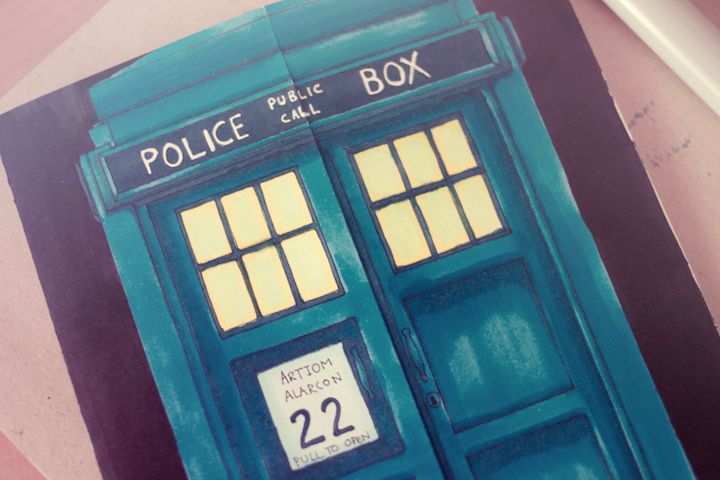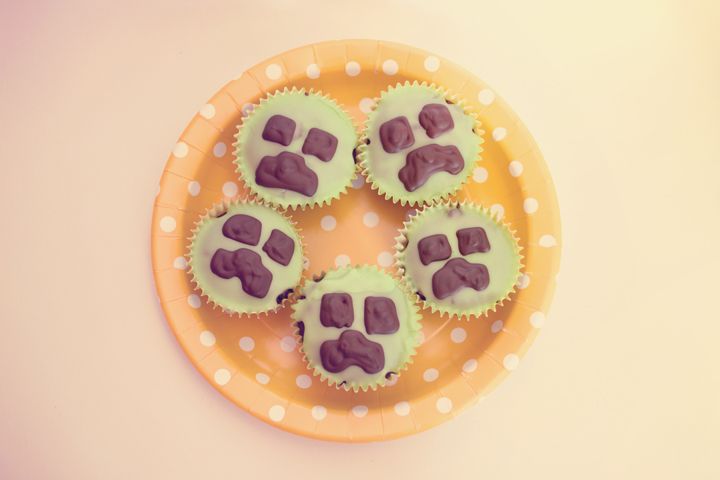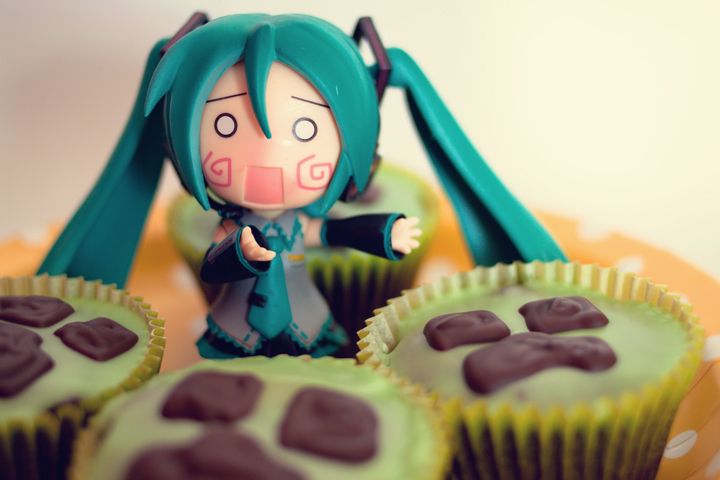 Why won't you let me eat these?! (°Д°)!